Reading time: 6 minutes
This case demonstrates how the expansion of geography in promotion helps to scale your business. And also - how CORRECTLY distributed funds spent on the site work for you And why you should think carefully before making a site on WP.
THE CONTENT OF THE ARTICLE:
About the customer
The project came to promotion in 2016. This is the site of a doctor who works in a state clinic - the head of the regional department of traumatology in Nikolaev, and performs complex operations on hip and knee arthroplasty, especially in elderly people.
Since the beginning of the work, the site has had the domain alekseev.mk.ua (we will explain below why this is important).
The main priorities of the customer are the promotion of a personal brand, the priority for the near future is the TOP in the Odessa region, and in general, high positions in the TOP in Ukraine.
Website CMS: WordPress
Promotion language: Russian
Promotion region: at the beginning of 2016 - Mykolaiv region
Semantic core: 27 queries
Main search queries: all queries with the word "arthroplasty".
Where did they start
Since our goal was to expand the geography of impressions and cover an audience from different regions of Ukraine, it was important:
revise the core, update irrelevant queries and add new ones;
change the site name and domain zone to all-Ukrainian, and not exclusively Nikolaev. This will give you an advantage in search engines.
So, the site changed its main address from alekseev.mk.ua to artrohelp.com.ua. But we didn't delete the old one either. Just both domains were "glued together". This was done for two reasons: both so that the site is available at the old address, and in order not to lose the existing positions, for which the site managed to gain a foothold in search engines.
For six months of work
And in the summer of 2016, attendance increased by 46%. Changes are especially significant in the ratios of ttraffic sources:
January 18 – February 18, 2016
June 18 – July 18, 2016
All traffic sources

+46%

340
497
Visits from search engines

+1166%

18
228
Advertising

-93%

150
10
By site name

+61%

123
199
Links to other sites

+200%

15
45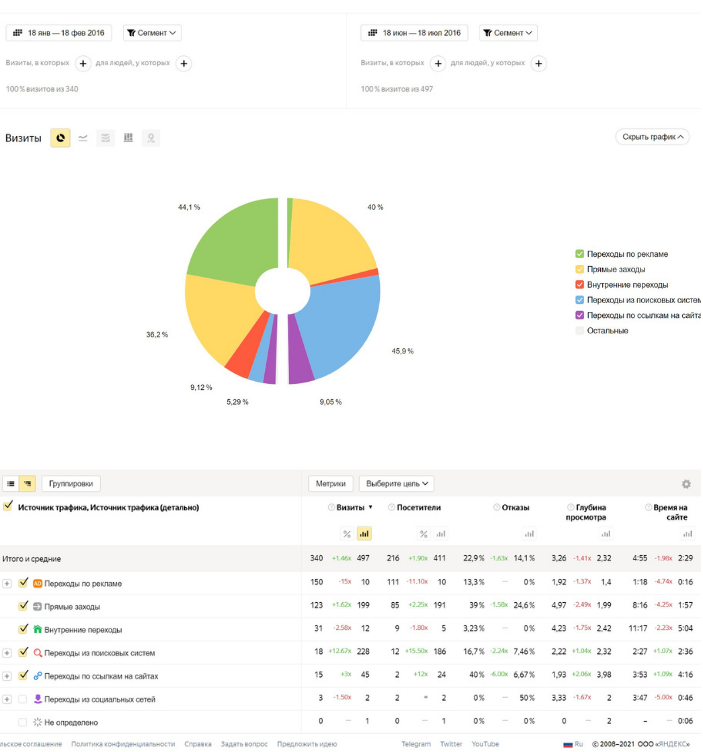 As you can see, before the promotion, the main source of traffic was advertising - 44%, 36% were direct clicks (by site name) and only 5% were visits from search engines! The last one is the shareware "organic" (yes, it is "conditionally", if we assume that the site owner is not a professional SEO specialist and therefore the time of the specialist will still need to be paid) and at the same time one of the most "targeted" traffic sources!
But, of course, we do not stop there and expand the core to 87 queries in order to move to Kherson and Odessa. Well, in general, a lot of things have been done in these four years …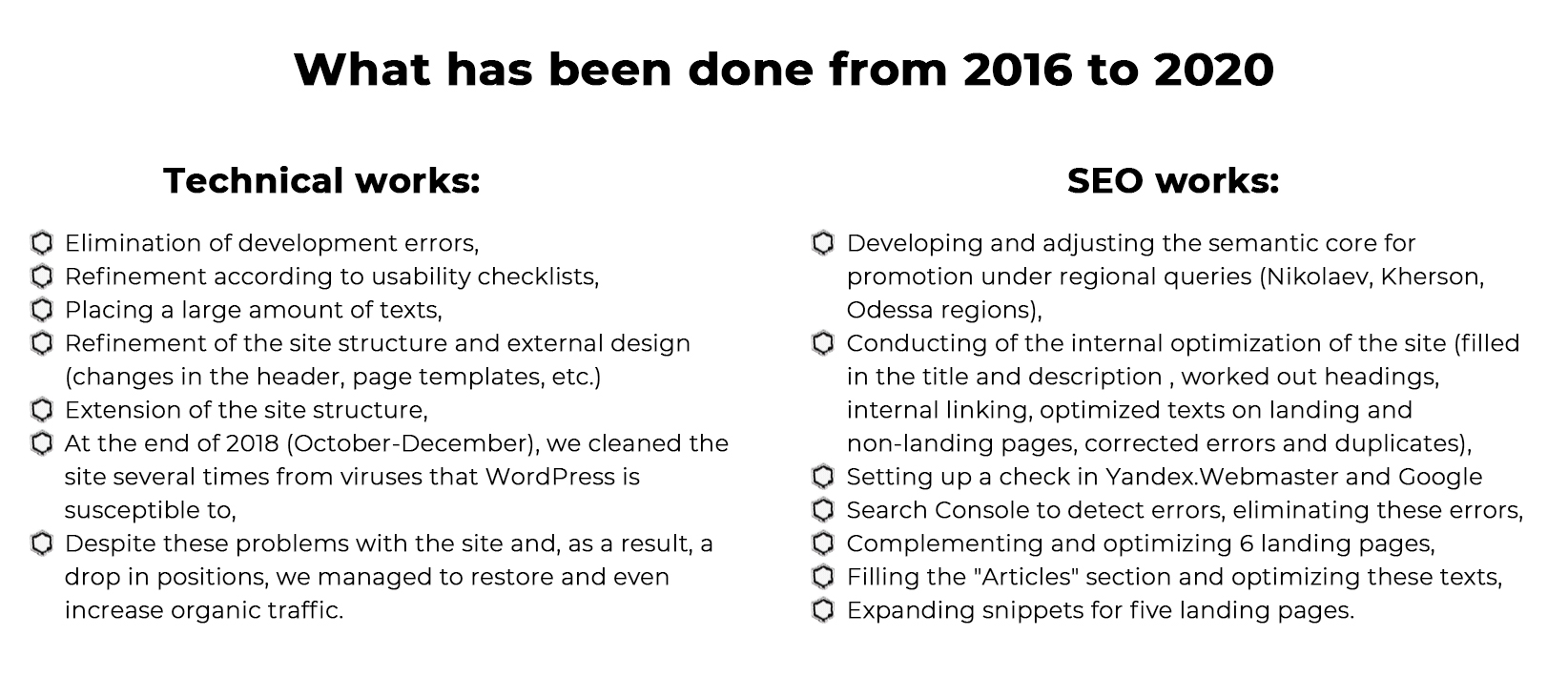 By the way, we wrote here about what usability is and how to use it with maximum profit for your site..
As a result, we got such results for the next four years.

What has been done from 2016 to 2020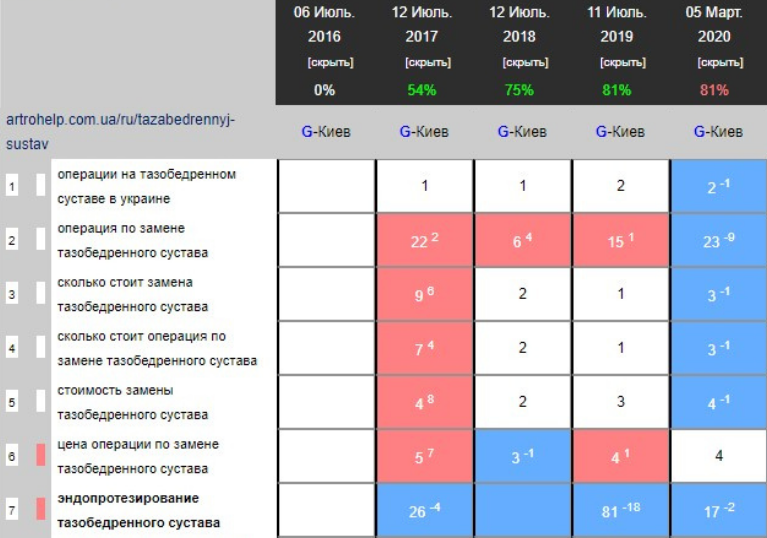 We managed to bring the site to the TOP for 81% of targeted queries in the following areas: Nikolaev, Odessa, Kherson. Now we are working to cover the whole of Ukraine.
January 18 – February 18, 2016
January 18 – February 18, 2020
Visits

+496%

340
2029
Referral sources:

search engines
contextual advertising
direct referrals (site domain typed manually)

18
150
123

1 879
0
176

Bounce rate

-61%

22,9%
8,8%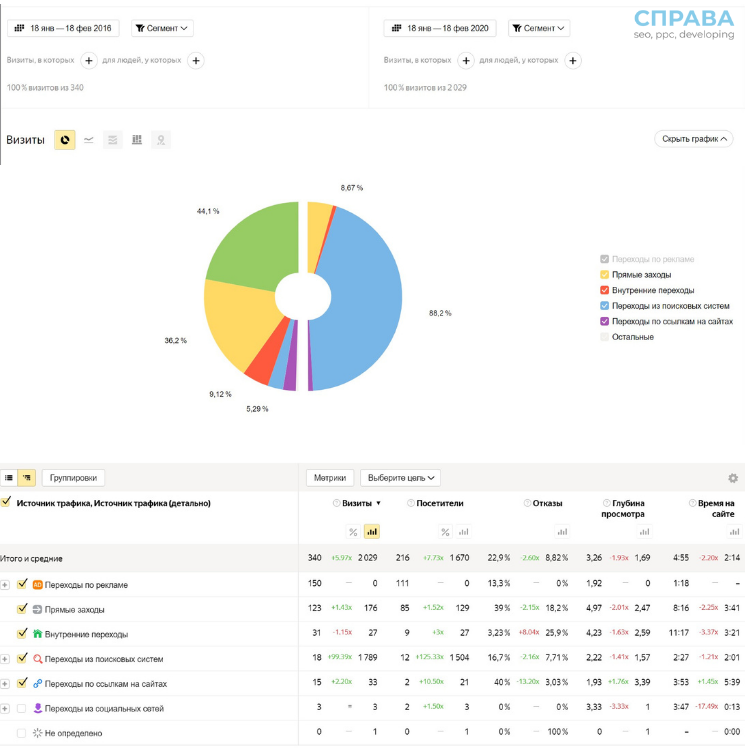 Although it is worth noting that the promotion work was suspended several times due to problems in the site. And this is the most "painful place" for WordPress sites:
Note! Thanks to the systematic work on the site, we managed not only to increase the number of visits from organic search (from 5 to 88%), but also save a significant budget that the owner spent on advertising. Now the main part of the target audience comes from free sources - by search engines, by site domain and by links on third-party sites!
LENARA KOZAKOVA – project-manager "SPRAVA":
Do not forget that WordPress is Open Source (open source software, which, accordingly, is available for viewing, studying and modifying), which means that finding "holes" is much easier. This makes this admin panel more vulnerable to hacking, which we have repeatedly encountered. In addition a large number of plugins, not all of which are safe. But even this is not the main problem. These plugins create a large load on the server, so the loading speed of a site that is "stuffed" with plugins leaves much to be desired.
High server load and slow download speeds affect not only complaints from the hosting provider, but also your profit. Why? Load speed has long been one of the main ranking factors in search engines. And if it is unsatisfactory, you lose positions, traffic and sales.
Once again, it's not that Google doesn't like Wordpress, it's about how WP affects your site and how it works. Plugins, images with separate links (=duplicates or low-quality pages for search engines), hacks, slow loading and server response speed are the main factors that search engines "do not like" and why they send your site deep into the SERPs. And not at all the fact that Google has a complicated relationship with WordPress :)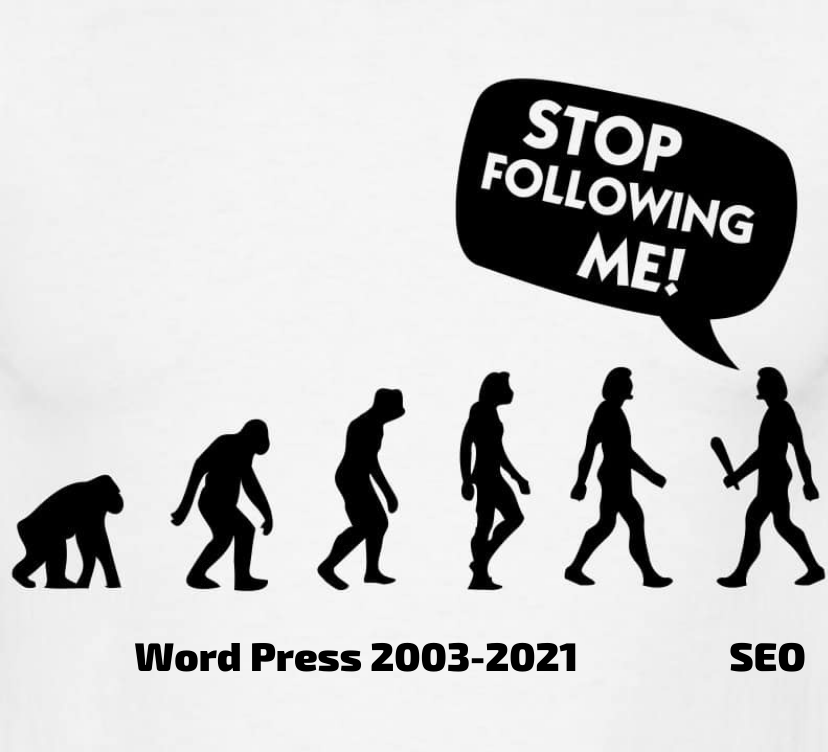 Therefore, in the summer of 2020, we began developing a new website for the project. Now we are working on filling, restoring positions and mastering new SEO horizons. But that's a completely different case...

If you need help or advice on your project, leave a request here