Friends! ... - there should be a text about coronavirus, sadness, quarantine, bans, losses. But you have already seen and read all this. SPRAVA experts decided to cheer you up in a different way. Namely:
specific ideas on how to move your business online;
consultations / audits / skills: how quickly to build and launch a website, how to connect online payments, how to create new online offers and products with pent-up demand, how to optimize advertising costs during a crisis;
we give good advice and collect useful information for our customers, we actively answer questions on the Sprava LinkedIn page.
BEFORE YOU START:
You can implement tips yourself. But those entrepreneurs who are used to working offline, want to do everything at the start quickly and correctly, do not have the necessary skills, can take advantage of our ANTI-CRISIS OFFER.
How to start moving your business online?
If you do not have a website yet, then first of all you need to collect the following data for a website which you could start on-line:
information about your company in the summary, the advantage of buying a product or service from you
what you offer, indicate your offer in a prominent place on the landing pages. It is better that the USP is short and contains factual information. If there are several products or services, describe them in a structured, understandable and concise manner.
service / product price (if there are price packages, then describe how they differ, what is included)
whom it is useful (whom the product / service suits, benefits from use)
how to contact you
terms of payment and delivery
social evidence (reviews, certificates, awards, patents)
who are your clients and partners (list and logos)
statistics: key facts about your product/service and benefits
portfolio (if needed)
questions list that your customers often ask your sales manager (and the answers to them)
This data will be enough to quickly launch a simple website / landing page for a specific promotion / anti-crisis announcement about changes in your work.
To sell online, you will need to set up Internet acquiring on the site. And it is important to take care of the security of transmitted information - connect an SSL Certificate.
What else matters?
determine what audience you need to attract to the site. Here we want to draw your attention to the fact that potential clients can have significant differences when working on-line and off-line.
what is important for your customers when buying on-line? Make a list of such items, determine which of them you correspond to and focus on this on the landing pages of your site
think about what exactly "hurts" your customers right now, determine how you can solve these problems or facilitate their solution with the help of your products / services / promotions offered, reflect it on the site
follow the channels of communication: indicate all possible options for how you are ready to communicate with customers. At the same time, it is important to remember that the maximum is expected of you.
pay attention to the photo quality and video content on your site, it is by visual content that your potential customers will judge your business
your site should be trustworthy, place a photo of your store, team, give a map, directions on the company page (yes, we remember about quarantine, but understanding that you have an offline office will add trust to your site)
act fast
For those who care about "quick" we have developed a special feature that involves launching a full-fledged website in 3 days. Here is an example of such a site, all the details can be found here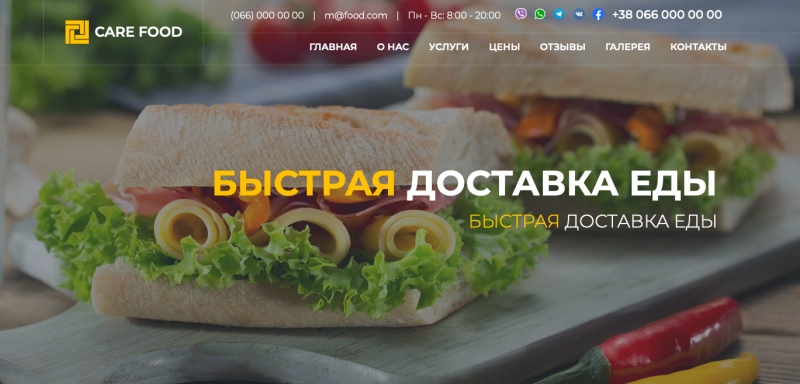 Separately, you need to make a plan for how you will communicate with your regular customers, with those who were with you before quarantine and those who we will need as soon as we can work off-line again. Here, in our opinion, it is more correct to use those channels where you can communicate as efficiently as possible in terms of your current business processes. It can be mailings, social networks, instant messengers, choose where you can: 1. reach out to this audience; 2. where you do not need significant financial investments.
You can read more about our site developing services.
Not a single site:
Having a website does not mean a phase transition to on-line sales, now we need to make sure that those who are ready to buy your services come to the same site:
We must redirect everyone who now reaches our real store or office to our site on the Internet: hang an announcement on the door about how you serve customers remotely. It would be nice to indicate the domain of your site or your pages in social networks there
Stay connected. Choose communication channels that are convenient for you (and your clients) and inform them about your current work, what you are doing to continue working, how you can buy certain of your services/products. Even the way you and your team build work now may be of interest to your clients, something informal can bring you closer than the most profitable promotion
Expand your audience. Let's say that we have established communication with regular customers, now it's time to think about how we can bring new ones. Here we need your knowledge of your customers, your advantages, what tasks your customers will solve with the help of your product or service. Based on this data, you can use the following tools:
contextual advertising
seo
targeted advertising
Each of these tools has its pros and cons. You can use all three tools, but if your current advertising budget is limited, it is better to choose the combination that will be most effective for you.
How we can be helpful:
You can see more here
There is no good without bad
If it weren't for quarantine, then perhaps you would have thought like that for a couple more years, but do you need a website, didn't come up with new products, wouldn't pack old ones in a new way, wouldn't optimize costs, wouldn't see how your partners and employees behave in a crisis.
Online will bring you profit for many years. And so, as now everyone understood this, the competition .. will grow. Both during the crisis and after it. Don't put off until tomorrow what you should have done yesterday, ask for help and support