Live chat is truly one of the best ways to make your website more effective in terms of sales. And a very budget friendly way. And often completely free!
Let's go in order.
What is online chat? First of all, it is a communication tool. With the help of a chat, a site guest can interact with a company manager or a support service online.
An example of an online chat from JivoSite:
Advantages of Online Chat for Business
Most of us are already so accustomed to communicating in instant messengers that the absence of this instant communication method is even somehow surprising ... Well, because it is fast, convenient and free. There is no need to choose a call time, call or wait for a response to a completed application on the site.
But online chats are important not only for users, but also for site owners. What exactly will your business get with the installation of a chat on the site?
Increasing the number of hits from the site;
Prompt provision of information to the site visitor;
Save time with the ability to set up automatic answers to frequently asked questions;
Convenient and constant communication with your customers: you can install the chat application on any device;
Chatbot (Chatbot (when the managers are not online, the user will still not be left without attention!);
Collection of applications from the site in one place;
Getting information about your customers;
Collecting a database of email addresses and phone numbers;
Increasing the level of customer loyalty.
Online chat increases the number of calls by an average of 70%.
Online chat increases the number of calls by an average of 70%.
Some statistics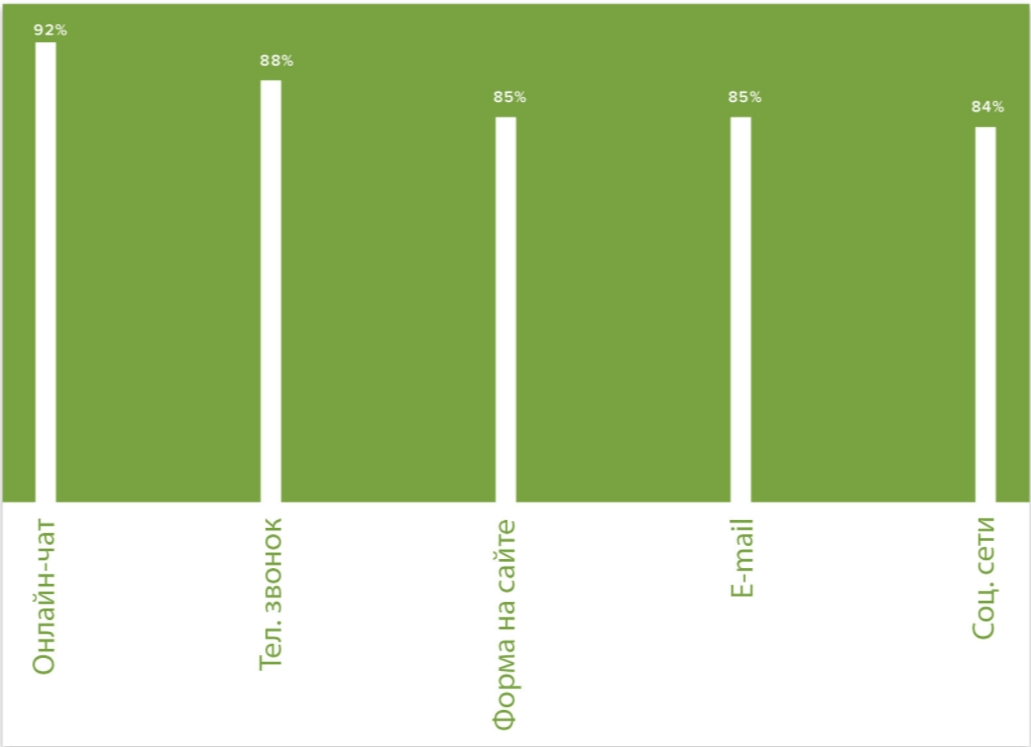 According to research by Zendesk.com (a company that develops software for help desks), online chat was the most convenient way of communication from the customers' point of view, with 92% of respondents choosing this option.
We also conducted our own little research and took as an example several sites of our customers where online chats are installed. Here are the results we got on average for a month of active chat use:
170 users left their contacts to the site manager (five people per day on average);
78 people requested a dialogue with the manager on their own, without waiting for an invitation to the chat;
261 - immediately accepted an active invitation to dialogue.
But such excellent results have one big nuance...

IMPORTANT! Online chat will work only if the response of your managers is really prompt! And the more prompt - the higher the chance that a potential customer will buy from you, and not from competitors

Which online consultant to choose?
The choice is really huge. And over the years since the advent of instant messengers and chats, we have had many opportunities to test different services and choose the best option. That's why...
We recommend JivoSite
Yes, as an advertisement :))) But in truth, this is a choice that has been tested by time, by us and our customers. Joking aside, the service from Jivo includes all the technologies that are possible today that are necessary for commercial sites:
chat (online consultant). Moreover, there is even a free version that allows you to fully work with the chat;
telephony and callbacks;
receiving messages from social networks and messengers, applications and e-mail;
corporate chat;
built-in CRM capabilities;
support all devices (iOS/Android/Windows);
over 20 service languages;
the ability to compile a client base based on user data that is stored in a personal account (name, phone, E-mail);
"guiding" the guest from the moment he enters the site: viewing the pages he visits in real time, the ability to initiate a dialogue with him (on the PRO version);
ease of installation;
pleasant and versatile design.
Everything you need to work effectively with clients! And all in one office!
But it's not enough to install a chat - it's important to learn how to use it directly to increase sales on your site. Let's talk :)
About JivoSite features: how to use them in sales?
1. Active invitation to dialogue
This means that if the user usually sees the chat as a minimized button (usually in the lower right corner of the site), then you can configure it so that the dialog box opens automatically a few seconds after the person has entered your site ( on the PRO version). Most likely, this is the type of chat you see while reading this article :)
The active invitation feature increases the number of hits from the site by an average of 2 times!

Below is data from one of our customers' websites.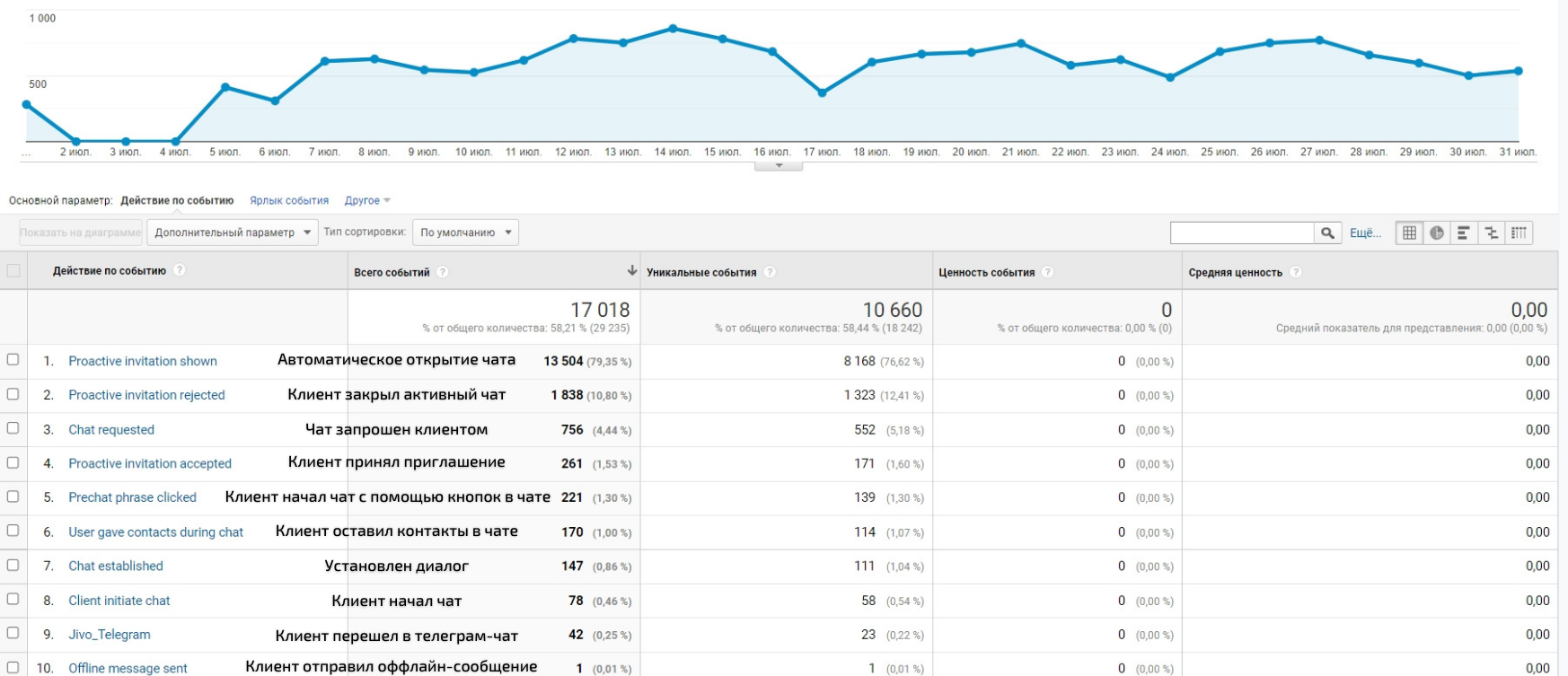 These are user requests via chat with the Active Invite feature enabled. Here you can also see the number of completed dialogues for the month (July 2021).
Don't wait for your site guest to write first! Offering help is a sure and proven path to the sale. Set up active invitations for specific pages and offer help to visitors at the right place and time.
2. Visitor monitoring
You can see in real time where (from what source) the user came to your site, which pages are currently viewing. Use this information to personalize your appeal. Due to the active offer function, you can offer your potential buyer exactly what he combines.
3. Quick phrases, templates and auto-messages
In each area, there are a number of questions that potential clients regularly ask:
How to pay?
How is delivery going?
Is the item in stock in the store?
Is my size available?
How to call a measuring officer?
What are the details for payment? Etc.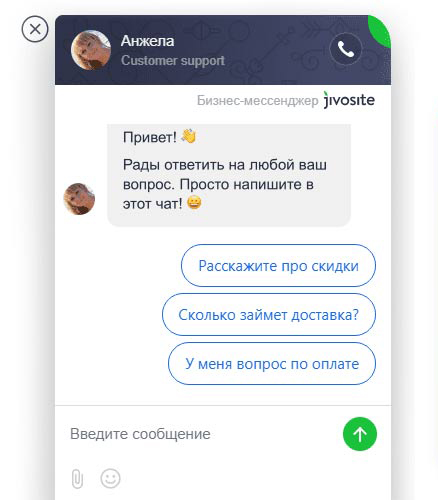 Thanks to the function of quick phrases, you can save a lot of time - both for you and your client ... And also speed up the process of placing an order.
When you click on such a question in the chat, the user immediately receives an answer (which you prepared in advance).
As we said above, this is important: the faster we respond to the client, the easier it will be to inspire his trust and loyalty, as well as to keep him from going to the competitors' website.
The ability to use templates and quick phrases is available in the free version of the chat.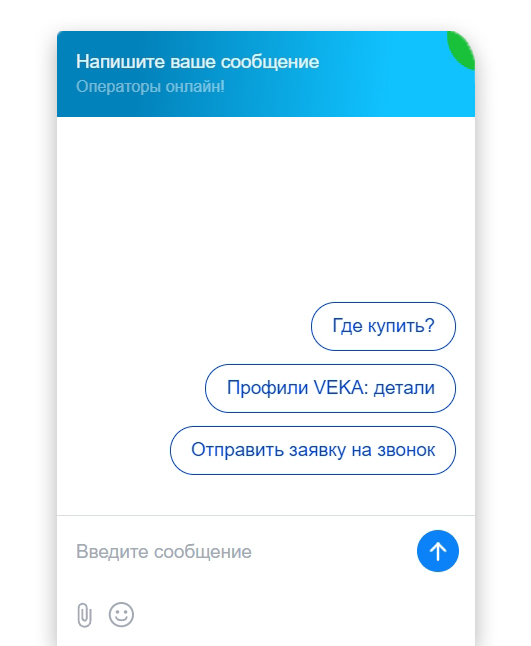 ADVICE: try not to use phrases like "how can I help you?"... They have already become so familiar that they do not inspire any trust among visitors and are perceived more like spam :) Better choose something specific to your business. For example:
We are ready to help you choose...
What services are you interested in?
I can help you choose...
Which specialist are you referring to?
Which specialist would you like to book an appointment for?
4. Control of managers' work
In your personal account, you can see full statistics: how much time the manager spends in the chat, which of the dialogues he started first, and which he may have missed... All correspondence is stored here (from 2 months to 1 year - depending on versions chat):
5. Data collection to build a customer base
With the help of the chat, you can find out and save the user's name, phone number and email address. Use this data to compile a database of potential customers and mailing lists, for example, with useful information and promotions.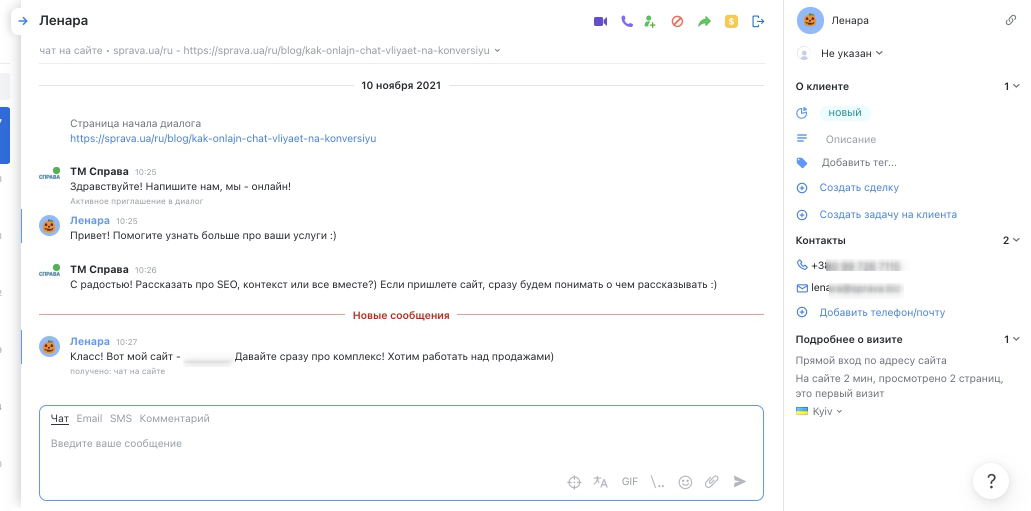 In addition, in the personal account, it is possible to assign certain labels to clients and divide them into groups: "ordered", "interested, but did not order", "not satisfied"...

6. Chatbot while managers are offline
Alas, managers can't be online 24/7. Or a large load may not allow the user to respond instantly. In these cases, a chatbot is indispensable!
The user sees a chat window on the site, and at the same time a warning that the managers are not online now, but you can leave a request or your contacts, as well as get answers to the questions proposed in the chat (see point 3 of our list).
The chatbot is available at any time and from any device, which means that customers will always be able to get up-to-date information. A chatbot can easily cope with such tasks: it will tell you where the order is, how to pay for it, and help you deal with frequently asked questions. If the bot cannot solve the client's question, it will connect the operator to the dialogue (the entire history of correspondence with the operator will be available).
7. View the text that the user is typing in the chat
Yes, there is such a feature: operators can (and should!) See what the user is typing. This gives a significant advantage, allowing you to quickly respond to customer questions: you can start writing an answer before the user has sent his question, or have time to find the information you need and thanks to which, again, respond faster.
8. Transfer chat to another operator
It is convenient if the operator does not have the opportunity to resolve the issue or does not have all the information. You can instantly transfer the chat to another specialist with the preservation of the entire correspondence history.
9. A complete CRM system for working with clients
CRM (customer relationship management) is a tool that allows you to control all channels of communication with customers and automate sales.
This means that in the same account you have the entire customer base and the ability to track the full cycle from the moment of contact to the sale, assign statuses, set tasks (call a client, send a contract, etc.), transfer information to the next department (for example , sales team, sales manager, etc.). That is, you guide the client through all stages of the transaction and control the work of employees at each such stage.
Proper use of CRM increases sales by 29%!
10. Personalization of the operator
You can add up to 100 employees, assign each of them as an operator, add a name, and set an avatar photo. We recommend that you use this opportunity! Communication with a real person increases the user's trust, has a positive effect on sales.
We should warn you that most of these features are available on the paid version of the chat from Jivosite. It is up to you to decide whether additional options are necessary in your particular case or you can get by with the free version. But we recommend trying the paid one, especially since it will be available to you completely FREE of charge for 14 days after registration! You can register here.
And if you don't have time to delve into it, write to us and we will help you install the chat on your site: