Editor's note: Introducing a good friend and partner of SPRAVA, with whom we have worked together to promote several hotels.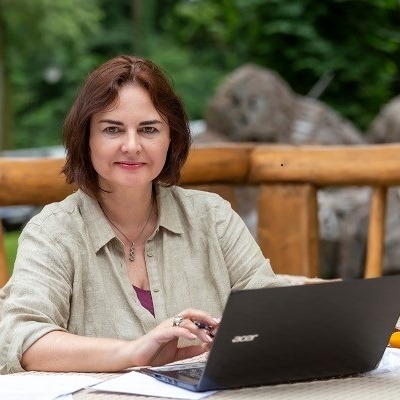 Olga Mishchenko has been in the hospitality industry since 2000.
Her portfolio includes hotels from the Carpathian region to the Crimea. Since 2010, she has been introducing online marketing as one of the most important tools for promoting and developing the hotel business. Since 2015, she has been engaged in consulting in setting up management and setting up online marketing and sales.
Every hotel is faced with the challenge of delivering financial results while investing wisely in costs. It is investing, not spending. This task becomes especially relevant in 2020, which has placed us all in a uniquely dramatic situation.
Therefore, we asked Olga to recommend hoteliers what to do in such a difficult timeс.
deologist of «Hotel Studio» Consulting and projects in setting up management and implementing an integrated approach to online sales in order to increase the profitability of the hotel.
It will be useful in solving questions:
hotel business concept development and hotel launch
hotel management with the implementation of anti-crisis solutions (project work)
audit of commercial activities and development of hotel revenue management solutions
hotel business trainings
FB page: https://www.facebook.com/StudiaGostynnosti/
---
I want to start with what only hoteliers know firsthand. There is no pent-up demand for the room (and other hotel services). A hotel room, like a commodity, has a shelf life of 22 hours, and tomorrow it is another commodity with its own new value.
The drop in hotel occupancy led to the formation of a negative cash flow balance. The situation is aggravated by the fact that January, February and partially March are the low season months for most hotels. Operating expenses during these months are hardly covered by current revenue. Add a period of investment improvements: current repairs, infrastructure preparation - all this is planned just for the off-season. If the hotel has prepayments for events of future periods, they are instantly "eaten up" by the operating system and repairs.
There is no income for 2-3 months of quarantine. And there is no understanding when the tourism industry will work at full capacity. The amount of subsidies needed to survive during this period can grow from UAH 2 million to UAH 5 million, depending on the hotel format and hotel concept.
This is such a difficult situation for business owners. And only they will decide how and to what extent to finance certain business processes of the hotel.
Downsizing is inevitable
It has already happened in many hotels. Basically, they reduce line staff - waiters, maids. Some employees are sent on vacation at their own expense or transferred to remote work with a reduction in the rate. And some owners even dismissed employees for an indefinite period, taking the work of preserving the object into their own hands. It is difficult to assess which of the strategies will be the most advantageous, since the conditions of management, lease or ownership in each object are individual.
Let's consider the option when the hotel finds opportunities to retain key personnel with partial payment and remote access. What tasks will the hotel face during this period?
Save customers
To negotiate with all partners (with everyone, including corporate clients and suppliers, outsourcers) and, of course, guests with whom there are contractual relations. For example, prepayments or commitments on your part. Create and negotiate friendly cancellation policies, such as:

cancellation of penalties for all promotional offers when canceling an order if the arrival falls within the quarantine period;
the possibility of transferring the reservation;
funds placement on a deposit with a bonus program.
One of the hotels has been developed a deposit program. When transferring funds to a deposit account, the guest receives an additional bonus amount, which he can use at the hotel to pay for accommodation or additional hotel services for two years.
Communicate. Each guest who got into the CRM system is a potential guest today or in the future. Find a way and channel to communicate with each of them:

Organize an email newsletter. Write about your feelings, the social activity of your hotel, tell us about the new conditions for booking and cancellation.
Talk to everyone you can reach on the phone.
Messengers work well. Write messages to customers on Viber/WhatsApp/FB/Instagram.
Inform about your contact channels of communication, in what period requests will be processed, about the work schedule.
In what tone and how to communicate with guests?
For example, in a month I received two information letters signed by Arne Sorenson, President and CEO, Marriott International. In the first letter, dated March 14, I was informed of the recognition of a global problem that first arose during the existence of the brand. We talked about the security measures that are taken in the hotels of this network and about the changed conditions for booking and cancellation.
By the way, all guests who booked hotels on the terms of a non-refundable rate or other promotional offers were lifted restrictions on refunds and cancellations. Thus, all guests with a check-in date before April 30 could cancel the reservation up to 24 hours before check-in without incurring penalties.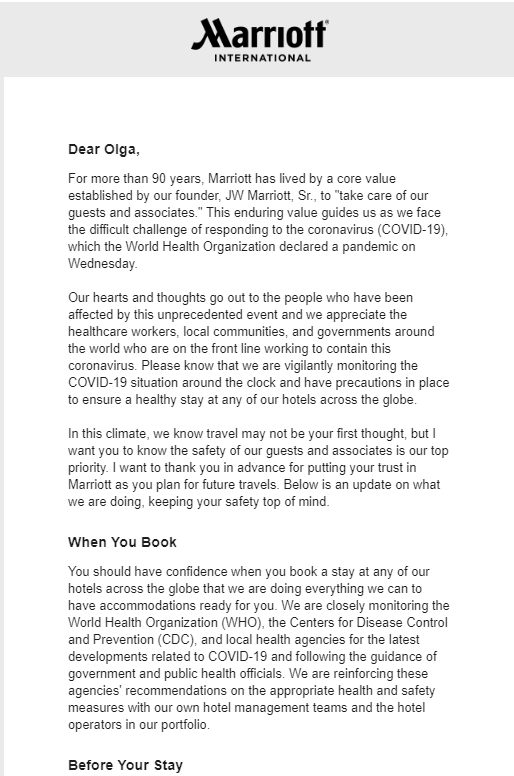 The second letter, which I received three weeks later, was spoken not only of sympathy, but also of the social activity of hotels and volunteers. The link to the site led to a description of the For Real Heroes program
So the brand informs that hotels that are located near hospitals provide accommodation for medical staff, military and supermarket workers who are nearby and provide food for them. Some hotels that were forced to close donated stocks and hygiene products to a children's charity, Chinese hotel employees volunteered at Chinese mask factories, joining their packaging.
These are important initiatives followed by the whole world.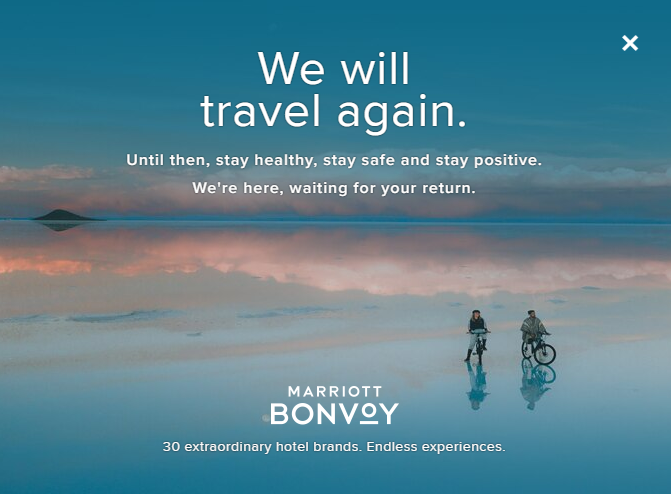 When you click on the link in the hotel's letter to the site, the following greeting appears
On its website, the hotel also invites everyone to join these social initiatives, organized a charity platform to raise funds for the victims.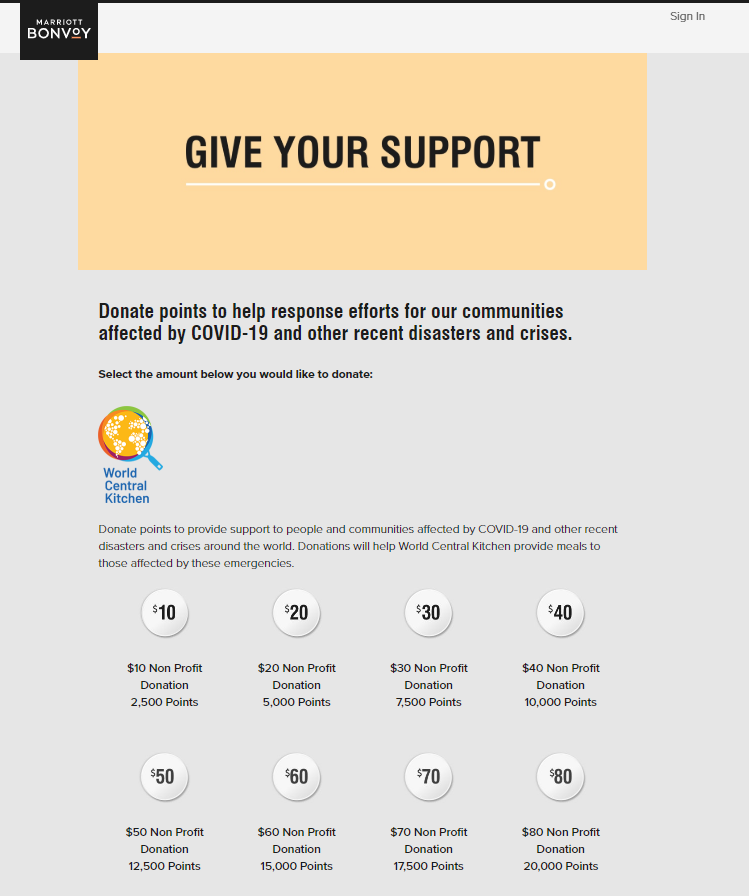 How many guests do you think this hotel will have after quarantine?
What happens to Ukrainian hotels? I learn from the press that some metropolitan hotels accommodate doctors or accept tourists for observation. Worthy initiative! But there is no mention on the hotel website and in its social media accounts. Some owners refrain from posting such information, fearing that guests after the end of quarantine will be afraid to stay in these hotels. This is a false belief, since the conditions for disinfection and treatment of premises are deliberately prescribed and approved by the protocols of the Ministry of Health.
Tell your website and social networks visitors about the good deeds that your hotel and employees are doing in a dosed manner.
Also in the letter to Marriott International were updated cancellation terms. The deadline for cancellation without the application of penalties was extended until June 30.
The changing situation requires a flexible approach and frequent changes in the program. This gives guests the feeling that you are constantly connected, and this increases the level of trust.
Marketing in times of crisis
After layoffs, marketing often ranks second in cost reduction. Here is what I recommend to do to get out of the crisis first:
If you can't find it online, it's time to take action. Website development, online booking module, active pages in social networks - a starter package for newcomers to the network. Let me remind those who doubt that +1 million new Internet users are added daily in Ukraine. Among them may be 1% of your new potential guests who can ensure the stable operation of the hotel.
For advanced users: we redistribute the budget for contextual advertising. Determine your minimum-maximum and distribute the periods: from the minimum during the growth period to the maximum after the peak. Reconfigure targeting. Today, flickering on the screens of your hotels for many users who have lost their jobs or whose incomes have been drastically reduced can seem like an additional irritant.But a more active presence after the peak of the quarantine can be a good chance to convert interest into effective sales. And at the same time, do not completely disappear from the air. Remind both loyal and new guests about yourself: tell about your feelings, experiences, stories that take place in the hotel. Let's get the feeling that the hotels are not working, just like their guests, and at the same time they are not freezing, but preparing to meet the guests.
To maintain your site's position on the web, determine the basic package of services that will allow you to stay afloat. Negotiate with partners about installment payments.
Prepare special offers for each target audience. Consider how the target audience of the hotel will change - length of stay, composition, budget, guest requests. What factors will be key to choosing a particular hotel.
Take the time to organize the content on your site. "Set it and forget it" is a misconception that, unfortunately, is inherent in many business owners, although their desire to get the most automated product is understandable. Check and update site content. Do you plan any changes in your work schedule in the post-crisis period? Inform guests first. Run loyalty programs. Are you a country hotel? Announce online masquerade, party and hand-made creative mask contest. Prepare guests for a masquerade party after restrictions are lifted, or come up with your own version of online and offline meetings with your favorite guests. Haven't scheduled a catering service yet? Sincerely share your recipes, as does, for example, the famous restaurateur Savva Libkin.
Update information, videos, photos on all your online sites. Tell guests not only about the hotel, but also its surroundings or nearby interesting places to visit. Don't have your videos? Use the materials of bloggers or tourist centers (with reference to the source, of course).
Have you identified new segments and target audience? Urgently already create new landing pages and give them for promotion. Time works for you, and it is important not to miss it.
Not enough time to respond to guest reviews on Booking, Tripadvisor and Google? Do it now.
Set up the booking module. Explore all its possibilities. Create the most interesting offer when booking on your site.
Work with social networks - determine the target audience for each channel. Let's have different content on these channels. Share with guests not only photos of your locations. Tell them stories that are short, emotional, sincere, and helpful.
Is it necessary to sharply reduce prices: pricing during a crisis
When adjusting prices, pay attention to the following:
reformatting the consumer market services, at least for 4-8 months;
the coincidence of the pandemic with the economic crisis;
decrease in income of 90% of the local population, which becomes the main consumer.
Everything suggests that the market will shrink to a local one, and consumer opportunities will decrease. And at the same time, when adjusting the pricing strategy, it is necessary to take into account that in the new conditions the room cost and related services provided by the hotel will increase. This is due not only to inflation, but also to the introduction of measures that require additional costs:
increased requirements for disinfection - the placement of sanitary products at all points of contact in the hotel, restaurant, SPA, fitness room and adjacent areas;
breakfast service adjustments – guest request for more personalized service, packaging, serving, disposable tableware;
increased hygiene and safety measures in the work of housekeeping;
increased requirements for completing children's playrooms.
What to do?
Leave the public prices unchanged (this requires a consolidated decision of hotels in your area). If one of the hotels starts dumping, gradually all the hotels will slide down. Why is it considered that prices should be kept at the level? A return to previous prices during the stabilization period will take much longer. Prices are what kind of product we can create, what kind of staff to attract and, accordingly, what level of service to provide.
Pack all discounts and discounts into special offers and packages (4 nights for 3, get a bonus dinner when booking from ... nights and others).
Work out each segment of your target audience and prepare a special package offer for it.
Start or continue working with dynamic rates.
Thank regular guests and send them personal offers that only members of the club can see.
---
What to read on the topic:
Materials of the "Hotel Studio" community
If someone needs it, then here is the full version of the letters (first and second) of the Marriott hotel chain.
Article by Victoria Bereshchak «How COVID-19 will change the hotel business in Ukraine»
---
Is it possible to find new sources of income within the hotel?
I would suggest assembling a team (possibly remotely) and conduct an intellectual assault. What requests and problems will be solved by guests who come to your hotel:
For example, an entrepreneur who is on the verge of bankruptcy and is looking for new sales channels. What will be of value to him?
Or maybe a mother with a child who dreamed of a family vacation in Turkey or Croatia, and now she is forced to plan a recovery with a child in Ukraine, as her husband saves the business after a forced "vacation".
Or a couple of mature 60+ guests sent by their kids to get healthy?
Or maybe a company planning an event whose budget has been reduced to a one-day training.
Having considered in detail each potential partner, it is possible to develop personalized offers.
How to maintain or even improve the level of service?
The answer to this question is simple: only by saving the key command. Everything is interconnected. If the team sees the care and partnership of management and investors, there will be more chances for returns and involvement.
If the board of directors has authoritarianly decided to send staff on vacation at its own expense for an indefinite period, it is unlikely that the general manager will be able to sincerely inspire the team. Another thing is an open conversation, as with partners. We are all in the same boat, and it is hard for everyone to swim when there is a reef ahead. Today`s task is to survive both for the business and for you. Let's think about what solutions can be. If there is dialogue at the highest level, it is easy for the general manager to pick up and implement the decisions made.
Hold online meetings with the team, even when the hotel is not open for guests. Discuss plans for the future, remotely set up business processes related to documentary work. Let me give you an example: once I received a request for training. The client saw a solution to the problem of working with tariffs in the replacement of PMS, which allegedly did not cope with the tasks set. After several clarifying questions, it became clear that it was not necessary to change the program, but to correct the settings correctly. During a period of tough operating system, there is rarely time for this, except for emergency situations, especially if the hotel is not a chain hotel and employees who no longer work at the hotel were involved in the initial implementation. Distribute internal audit tasks among employees. Set up cross-tasks. In fact, by allocating a couple of hours for remote work, you can do a lot.
Involve your team in useful webinars. This will level up the team. After all, this season we all understand that the cost of staff development in most hotels will be limited to internal training. Share useful links with employees and discuss topics raised during webinars from the point of view of the development of your hotel.
To go beyond. The Marriott brand goes beyond communicating with the team and guests.
Every evening, even empty hotels light up their room lights with upbeat slogans or symbols meant for the entire community.

"We love, we believe, we hope."
Examples of great brands teach us, inspire and motivate us to find our own solutions and pass the path of crisis and transformation in a quality manner.
If you are looking for hotel SEO agency to improve your internet promotion in crisis times, contact SPRAVA. We are ready to help.