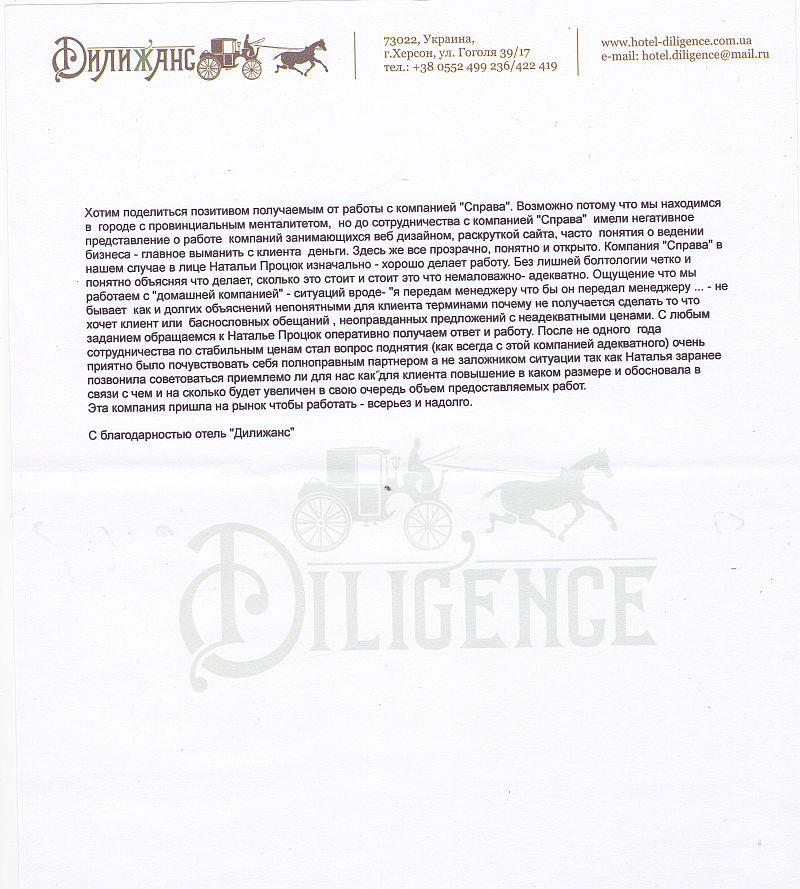 We want to share the positive received from working with the company "SPRAVA".
Perhaps because we are in a city with a provincial mentality, but before cooperation with the company "SPRAVA" we had a negative idea about the work of companies involved in web design, site promotion. Often their concept of doing business is like: the main thing is to lure money from a client. Here everything is transparent, understandable and open.
The SPRAVA company, in our case represented by Natalia Protsyuk, initially does a good job. Without unnecessary blathering, clearly explaining what they do, how much it costs, and I'd like to point out that the cost is adequate. We have the feeling of working with a "home company", as we don't get situations like "I will tell the manager to tell the other manager...". We also don't receive long explanations in terms incomprehensible to the client why it is not possible to do what the client wants. Also we don't get fabulous promises or unjustified offers with inadequate prices.
With any task we turn to Natalia Protsyuk and we quickly get an answer and work result. After more than one year of cooperation at stable prices, the question of raising (as always with this company, adequate) arised. It was very pleasant to feel like a full-fledged partner, and not a hostage of the situation, since Natalia called in advance to consult whether it was acceptable for us as a client to increase payment and in what amount. She also justified in connection with what and by how much the volume of work provided would be increased in turn.
This company came to the market to work - seriously and for a long time.
With gratitude, the hotel "Diligence"
hotel-diligence.com.ua
2013-04-04