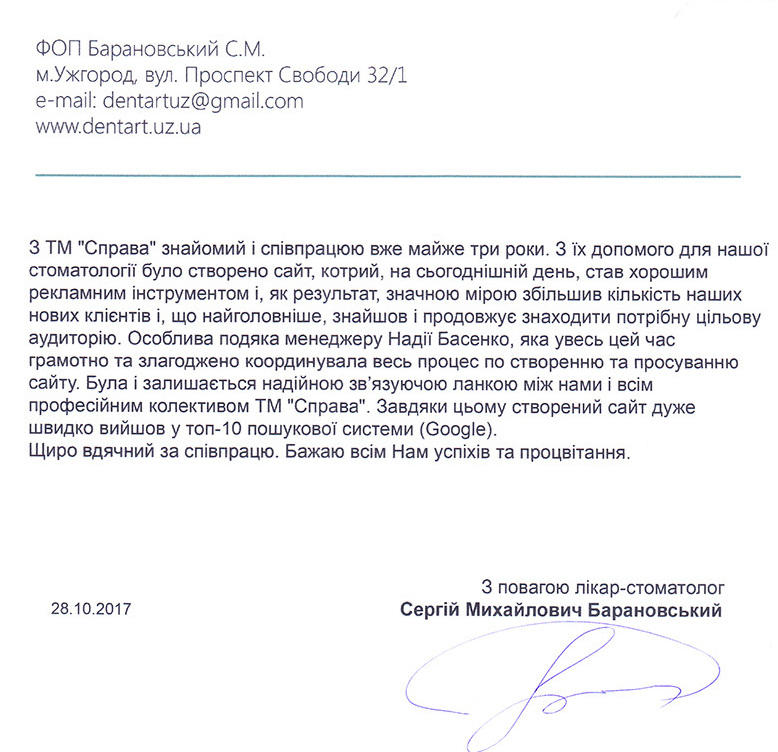 Sole trader Baranovsky S.M.
Uzhhorod, street Svobody Avenue, 32/1
e-mail: dentartuz@gmail.com
www.dentart.uz.ua
I have known and worked with TM Sprava for almost three years. With their help, a website was created for our dentistry, which has become a good advertising tool to date and, as a result, has significantly increased the number of our new customers and, most importantly, found and continues to find the right target audience. Special thanks to the manager Nadezhda Basenko, who competently and harmoniously coordinated the whole process of creating and promoting the site all this time. It was and remains a reliable link between us and the entire professional team of TM "Sprava". Due to this, the site was quickly ranked in the top 10 search engines (Google).
I am sincerely grateful for your cooperation. I wish us all success and prosperity.
10/28/2017
Sincerely, dentist
Sergey Mikhailovich Baranovsky
2017-11-0