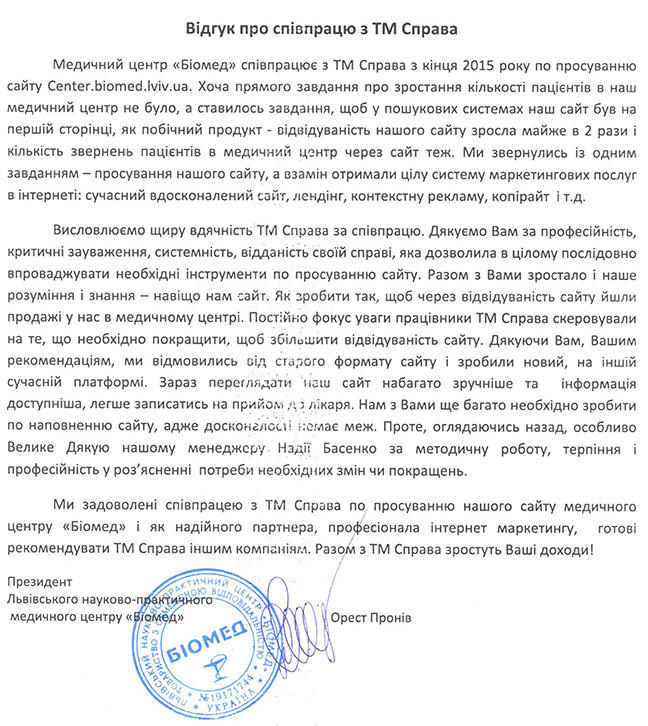 Biomed Medical Center has been cooperating with TM Sprava since the end of 2015 to promote the Center.biomed.lviv.ua website. Although there was no direct goal of increasing the number of patients in our medical center, the task was to have our site on the first page in search engines. As a by-product - traffic to our site increased almost 2 times as well as the number of patients to the medical center through the site. We applied with one task - to promote our site, and in return received a whole system of marketing services on the Internet: a modern improved site, landing, contextual advertising, copywriting, etc.
We express our sincere gratitude to TM Sprava for cooperation. Thank you for your professionalism, critical remarks, systematic approach, dedication to your work, which allowed you to consistently implement the necessary tools to promote the site. Our understanding and knowledge has grown with you - now we know why we need a website and how to make sales in our medical center due to site traffic. Employees of TM Sprava constantly focused on what needs to be improved in order to increase site traffic. Thanks to you and your recommendations, we abandoned the old format of the site and made a new one, on a different modern platform. Now browsing our site is much more convenient and information is more accessible, it is easier to make an appointment with a doctor. You and I still have a lot to do to fill the site, because there are no limits to perfection. However, looking back, I would like to thank our manager Nadezhda Basenko for her methodical work, patience and professionalism in explaining the need for necessary changes or improvements.
We are satisfied with the cooperation with TM Sprava to promote our website of Biomed Medical Center and we are ready to recommend TM Sprava to other companies as a reliable partner and an Internet marketing professional. Your income will grow together with TM Sprava!
President
of Lviv scientific and practical
Biomed Medical Center
Orest Proniv
2017-09-01